My family grew up poor but we are a creative family.  I remember dad being great with his hands in working with wood. My mother did tatting stationery and my brother and sister help draw the leaves on the stationery.
When my brother and I were in middle school, my parents bought us a guitar.  My brother picks it up and played awesome.  I wrote the words to the songs.
My sister is a professional artist who could draw anything.
For myself, I remember in kindergarten drawing a whale and winning a prize.  In the eighth grade I was the art director for our school newspaper.  I continue to write words in poems and draw pictures all my life.
I grew up listening to Dr. Seuss, Shel Silverstein, Jack Prelutsky and recently Kenn Nesbit.  I was able to past these great poets on to my kids and students in school.
In the early 70's I had the chance to get 9 personally autograph books from Dr. Seuss.  I treasure them today.  I have a collection of Dr. Seuss and Shel Silverstein books which I would read and get the rhythm of the words and the pictures in my head.
I would brainstorm the words until an idea would start forming in my head for a poem.  Then I would draw the pictures over and over getting them just right.
At the age of 20, one of my goals in life was to write a book.  It took me 30 years to realize that dream in the first poetry book called "Up The Tree House".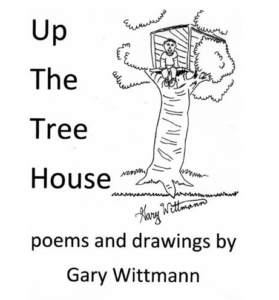 Click here to buy the paperback book. 
I am still working on the second book will be coming out soon.
I felt this book "Dr. Seuss Made Me Do It"  inspired me to take the collection of both books.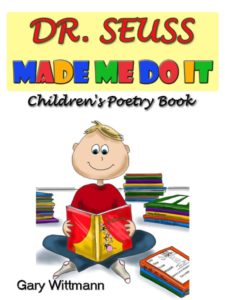 Click here to get your copy of the paperback book. 
I am humble when people tell me these poems remind them of Shel Silverstein or Dr. Seuss.  I feel the purpose was to make people see the fun in words and pictures. To touch their youth one more time—I hope you do.
Gary Wittmann's Children Poetry Book has received great reviews,  4.6 Stars *
I love the illustrations in this book, so creative and we especially laughed at How to wear your underwear 4 days…
Format: Kindle Edition
Verified Purchase
I got this book for my nephew and to my surprise he really liked it (11 year old boys can be difficult to buy for). The book is a collection of poems for all ages, there's something for everyone. I personally liked the "America" poem, very touching. So I suggested my nephew submit it to his history teacher, as she is always interested in new venues to broaden the children's understanding of American culture. His teacher and class loved it! The author did a beautiful job with capturing the American Pride on that one. I enjoyed the humor, heart and love the author put into this book.
Format: Kindle Edition
Verified Purchase
Mr. Gary Wittman had done a great job with this book of poems inspired by the likes of Dr Seuss himself, Shel Silverstein who wee 2 of my personal favorites. I especially like the poem on America which hit home for me after the Oklahoma tragedy. I also give Mr. Wittman for setting a goal of writing a poetry book hand having in come to fruition in this book. If you like poetry this would be a good book to check out
Format: Kindle Edition
Verified Purchase
This book is filled with poems which I found ok, but to be fair poetry is not my thing. However, the illustrations in the book which co in-sided with the story line and poems had me laughing out loud.