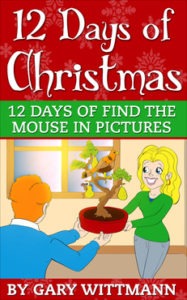 Gary Wittmann has written the Christmas story of the birth of Jesus Christ.  Check out There Is Always Room For One More ,    He went on to create an unique art work from his Disney illustrator, Gaspar Sabater.   In the 12 Days of Christmas, Gary and the artist takes you through the song.  Gary had Gaspar to hide a mouse for the children to find in each of the 12 days of Christmas.
In the paperback version, you are given a repeat of the story one more time.  This time the story is not colored.  It is your turn to copy it and color it in.  You can compare your coloring pages to the paperback version of the book.
Have fun with this Christmas paperback book.